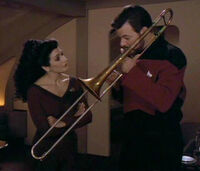 Number One is the loneliest number that you'll ever do.[1] However, Two can be as bad as one, it's the loneliest number since the Number One.[2]
Behind the scenes
Edit
Bet ya thought we'd make a Quantum Leap joke, didn't ya? We may be predictable, but we're not that predictable. A joke of that scale would be... a little caca.
Number One is the Final Cylon.
Notes and references
Edit